Guest Book
Hayat Durrani Water Sports Academy wellcomes your suggessions for the promotion and development of Rowing, Canoeing, Kayaking, Sailing and other water sports at the Boat House Hanna Lake Quetta ,
Shahzada Hayatullah Khan Durrani with Governor Balochistan Mr. Owais Ahmad Ghani, & Lt:-General Hamid Rabnawaz at Governor House Quetta , Mohammad Abubakar Durrani and Mohammad Umar Durrani are also present at the ceremony.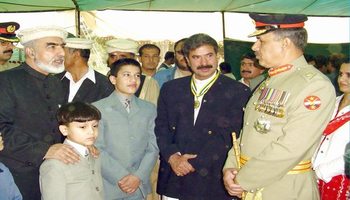 We can gather information about HDWSA Achievements by visitors, encouraging our players, to sign our guestbook.
LONG LIVE PAKISTAN
LONG LIVE , HAYATULLAH KHAN DURRANI "NATIONAL HERO"
(PRIDE-OF-PERFORMANCE)
THE PIONEER OF ROWING.KAYAKING,CANOEING, SAILING AND MOUNTAIN ADVENTURE SPORTS IN BALOCHISTAN
AND
FOUNDER OF CAVE EXPLORATION ADVENTURE SPORTS IN PAKISTAN.